Gluten Free
0

We're thrilled to be Healthy Dining Finder's Restaurant of the Week! Check us out on their homepage and read about the many low-calorie selections we have for you at Casa de Pico: http://goo.gl/OGevaV.
If you still want to know more about our newest healthy and delicious creations, read this blog post.
0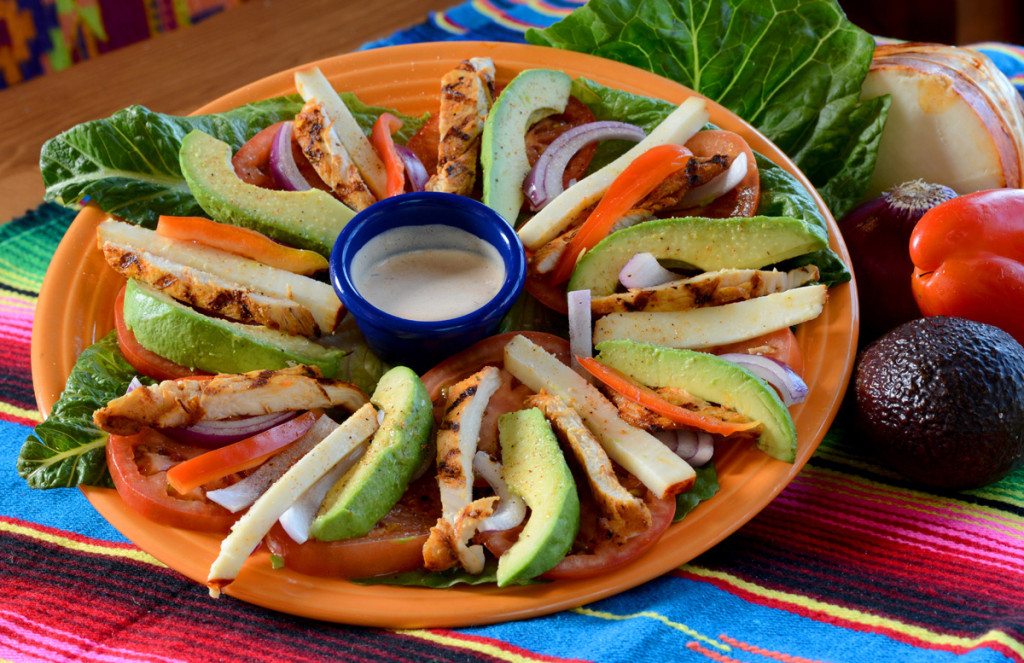 Healthy dining…Mexican style? Only at Diane Powers' Bazaar del Mundo Restaurant Group, where six flavorful and regionally-inspired Mexican entrees are new – and all under 650 calories! Gluten-free choices are also included.
The chefs at Powers' award-winning Mexican restaurants (including our sister-restaurants Casa Guadalajara in Old Town, Casa de Bandini in Carlsbad and Casa Sol y Mar in Del Mar Highlands) have created lighter selections using the finest and freshest ingredients, with homemade salsas and sauces newly prepared every day:
 Camarones del Pacifico: The ultimate shrimp ceviche marinated and poached in Pacifico beer, lime juice, red onions, Tajin and cucumbers – 290 calories
*Ensalada de Chef Ignacio: Grilled chicken, avocado slices, tomatoes, queso Oaxaca and thin red onion, served with spicy chipotle light ranch dressing – 510 calories; gluten free 
*Turkey Picadillo Enchiladas: Turkey Picadillo Enchiladas topped with salsa verde and queso cotija, served with black beans and jicama slaw – 560 calories; gluten free 
Turkey Picadillo Soft Tacos: Two soft, ground turkey tacos with pico de gallo, pickled red onions, queso cotija, served with black beans, arroz poblana and salsa quemada – 490 calories 
Tacos de Pescado Tropicales: Grilled fish with pineapple and mango salsa in soft corn tortillas, served with jicama slaw, light sour cream jalapeño lemon sauce, and black beans – 650 calories
*Ensalada de Carne Asada: Grilled and marinated carne asada, with sliced avocado, tomatoes, queso cotija, sliced radishes, spring mix of romaine and cilantro lime dressing – 390 calories; gluten free 
* = gluten-free selections 
Diners can enjoy the new healthy dining entrees while washing them down with a frosty Skinny Margarita, made with Tres Agaves nectar and under 100 calories. ¡Salud!
0
The people's choice for best mexican restaurant  La Mesa is hands-down Casa de Pico. We received three awards from the East County Californian in September: Best Mexican Restaurant, Best Lunch and Best Ambiance.  It's our attention to detail that separates us from the pack, and we've developed the most variety filled Gluten Free Menu you'll find. Complete details are at www.casadepico.com. Just click on "Menus" at the top of the page, then click on the box that say's "Gluten Free Menu" and our entire selection will open for you.
What is gluten? It's a protein that helps make wheat, barley and other grains have a "chewy texture". It also makes a small percentage of the population ill. We want all of our customers to leave our restaurant feeling satisfied, and healthy. That's why Casa de Pico developed such an extensive gluten free menu.
For forty years Casa de Pico has provided our customers with authentic Mexican atmosphere and dining. Come and visit us and you'll see that we have something for everyone. Your health matters to us.