Holidays
0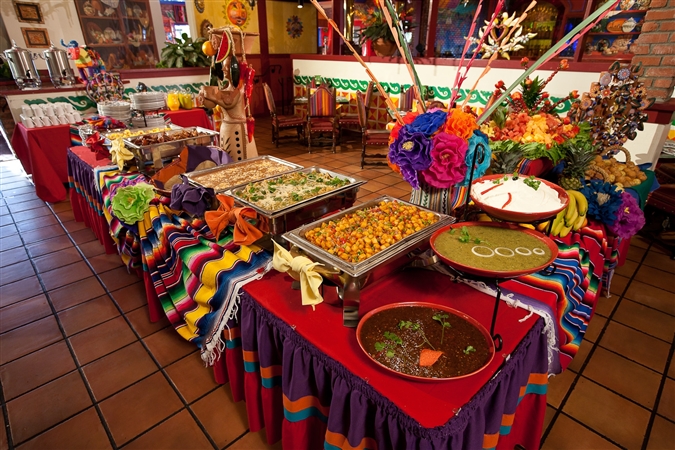 Dazzle guests with a festive party to remember and have Casa de Pico take care of the details! When you let us host your party, your guests will enjoy our traditional Mexican food, strolling mariachis and world-famous margaritas. Whether you are throwing a holiday gathering or a casual company lunch, we have a variety of delicious menu packages that cater to your needs. Or, have it your way with a menu custom designed to fit your one-of-a-kind event!
Diane Powers' Casa de Pico is a top East County destination for authentic and award-winning Mexican cuisine, showcasing friendly service and the very best in Mexican culture. We have two fabulous fiesta rooms, an expansive dining room and lovely outdoor patios available to host whatever special occasion you are celebrating.
Casa de Pico welcomes guests from near and far with its vibrant atmosphere and fabulous décor. The fiesta begins when you walk through the door – your party will be welcomed with vivid colors, hand-painted artwork and hand-crafted furnishings. Our environment makes every occasion extra special, spotlighting fun entertainment, delicious cuisine and refreshing cocktails. Diners can sip on frosty giant birdbath margaritas while enjoying regionally inspired Mexican fare, alongside Mariachi music played by our very own Troubadours.
We take pride in serving the best traditional and regional Mexican cuisine – all of our recipes are made from scratch using only the finest ingredients. From freshly made tortillas to a selection of 14 homemade salsas and sauces, Casa de Pico offers a wide array of choices for all tastes.
For those with special dietary needs, Casa de Pico provides special gluten-free, vegetarian and healthy dining options.
We also offer "Fiestas To Go," making party planning easy by offering our delicious cuisine for pickup or delivery. For more information or to book a reservation, call 619-463-3267 or email banquets@CasaDePico.com.
Treat your guests to the true spirit and taste of Mexico at Casa de Pico!